We're excited to announce that we will have Jim McAllister visit us all the way from Salem, Massachusetts on April 16th at 5:30 pm at Griffith College Dublin in the conference centre, room AF301.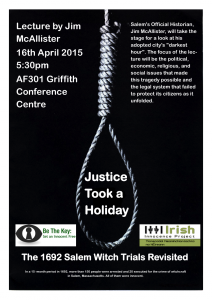 Mr McAllister, who is known for his engaging lectures, will speak about the 15th month period in 1692 when more than 150 people were arrested and 20 executed for the crime of witchcraft in Salem, Massachusetts. The lecture will focus on the political, economic, religious, and social issues, which led a society to fail its citizens.
This lecture is open for the public to attend. It truly is a wonderful opportunity, so make sure you don't miss it!
We're delighted to announce that founder and director of the Irish Innocence Project, David Langwallner has been shortlisted for the AIB Private Banking Irish Law Awards 2015, in the category of Pro Bono & Public Interest Team/Lawyer of the Year.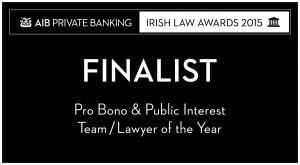 The AIB Private Banking Irish Law Awards will take place on the evening of Thursday, 30th of April.
Also, make sure you do not miss out on the interview we did with Griff FM in January, n0w available for listening back on our SoundCloud account: https://soundcloud.com/irish-innocence-project
Keep an eye out for more audio updates there!